Kona Iron Man Edition Arrives

Kona Iron Man Edition Arrives
What if Stark Industries Built a Crossover Vehicle?
It's an interesting concept right?
And the truth is that you don't have to imagine the above scenario, because it actually exists!
It's called the Iron Man Edition and it's available as a 2019 Hyundai Kona model.
This ultra-unique limited trim is based on the look of Tony Stark's armored Iron Man suit.
And this exosuit comes with seating for up to five.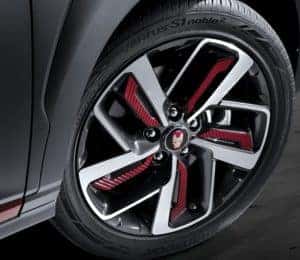 The Kona Iron Man Edition's other features include:
V-shape hood bevel with Marvel logo
Iron Grip dual-tone 18-inch wheels (picture above)
Seats with embossed mask, suede logo patch and red contrast stitching
Exosuit-inspired rear lights, bumper and skid plate
Red armor two-tone roof and side mirrors
Heads-up Display startup animation sequence
The Kona Iron Man Edition: An Epic Crossover Event
Hyundai and Marvel have teamed up to produce an epic crossover event.
Moreover, the Kona Iron Man Edition is the world's first
production vehicle to be themed after a Marvel character.
You can browse our entire Kona lineup here.

*10 Fun Superhero Facts*
Mandrake the Magician is likely the first American superhero. The character—who was part of a syndicated newspaper comic strip—was first seen in 1934
Spiderman was actually inspired by a FLY
The Incredible Hulk was originally supposed to be grey
Joker appears in 9 of the first 12 Batman comic books
Harley Quinn from Batman is one the few comic characters to debut on TV (it was on Batman The Animated Series)
Daredevil can hear people talking through a soundproof wall
There are over 50 Iron Man suits
The first American superhero movie is Batman: The Movie (from 1966)
Thor hit Gorr so hard it created a black hole!
Batman has made the most appearances in comics