Best Road Trips in the U.S.: Navigating the Big Island of Hawaii

Best Road Trips in the U.S.: Navigating the Big Island of Hawai'i
Best road trips in the U.S. anyone? Here's what Kai and Leilani discovered on their road trip around the Big Island of Hawai'i.
Re-connecting with our Homeland
(The following is a fictional account of the joys of traveling to Hawai'i).
With longing hearts, my sister and I said hello to Hawai'i's Big Island.
Our burning affection was no real surprise.
This was because—as the two of us had been born here before leaving for Seattle as toddlers—
the road trip was a bit of a pilgrimage.
So it was with a generous amount of  spirit
AND coffee ☕ that Leilani and I made our way to our homeland.
After landing at Kona airport, we made a quick beeline to the travel agent's desk;
then, after hearing her positive comments about the Hyundai Tucson, we hit the road in one.
Leaving Kona Airport For Hawai'i's Belt Road
While our Hyundai navigation system made for a reliable tour guide, we ended up leaving most of the details up to ourselves.
We spread our wings by taking in the Big Island of Hawai'i's coffee country, the region's
lava fields, forests, ranches, and more.
No matter where we were or what we were doing, the weather was always BEAUTIFUL.
(Did you know? Hawai'i is one of the most diverse places,
both culturally and climate-wise, in the entire world). Here's what happened when we made our way onto the historic Belt Road.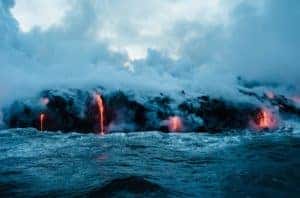 Lava Fields, Forests, & More
Our road trip was taken over the ever-present Belt Road. Completed in the '70s,
this stretch of road runs for about 150 miles.
It forms a squiggly circle that covers the entire island, from the Kohala Coast to the Black Sand Beach and Honolulu Landing.
What struck us the most was the green lushness of our homeland.The entire island seemed to be bathed in an emerald glow.
Looking out the window (and also from up close on our hikes),
we came across an endless amount of hibiscus plants, ginger, Bird-of-paradise, and ferns.
We even made a stop at Hawai'i Volcanoes National Park.
This excursion gave us a chance to see one of the most unique geological, biological, and cultural landscapes in the world.
What's a Paniolo?
In our travels through the Big Island of Hawai'i, we came across so many interesting thoughts and facts. For instance, we learned that:
The state of Hawai'i counts 137 islands as being part of the Hawaiian chain
The word paniolo is Hawaiian for what other U.S. states refer to as a cowboy
Long before poke made its way to places like L.A. and Seattle, it was a native dish of Hawaiians
Hawai'i is the only state in the USA that grows coffee. Coffee is grown on the Big Island, Molokai, Maui, and Oahu
For beautification purposes, there billboards are not allowed in Hawai'i
Best Road Trips in the U.S.
While we already find ourselves longing to cross the ocean for our Hawai'i once again,
my sister and I still have a few other road trips planned.
Take Seattle to S.F, for instance—we've heard so many good things.
There are also the ever-alluring possibilities of California's Pacific Coast Highway.
We hope that our story encourages you to get out and explore!
Aloha, a hui hou!