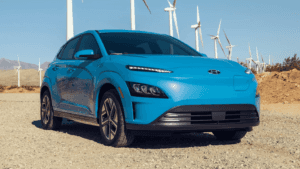 A 201-hp electric motor drives the front wheels and is powered by a 64.0-kWh battery pack. Front wheel Drive is the only option for the KONA Electric. The KONA Electric can reach from zero to 60 mph in 6.4 seconds, which is 0.2 second quicker than its sibling, the gas-powered KONA. As with the ICE Kona, the electric version offers energetic driving dynamics, which makes it so much fun to zoom along a twisty two-lane and a compelling drive for a subcompact SUV. It also cruises smoothly at highway speeds and also offers a substantial and planted feel thanks to the floor-mounted heavy battery that gives the KONA Electric its low center of gravity.
Aggressive regenerative braking allows for true one-pedal driving. This dynamic pedal extends the driving range to a claimed 258 miles—only one mile less than the Bolt EV. You can flick the paddles behind the steering wheel to adjust through the 3 levels of regen, but to get the maximum benefit, the highest setting is suggested to best capture the energy that's already in motion. KONA Electric's brakes convert the wheels' mechanical energy into electricity and store it in the battery.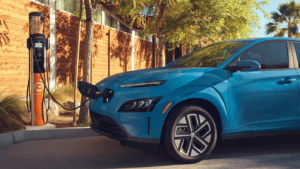 The KONA Electric can be charged on a 110-volt household outlet, but a 240-volt outlet is best for home charging. With a home outlet of 220/240V (Level II Standard 7.2kW) and you can charge your KONA Electric from 10% to 100% in approximately 9 hours, 15 minutes. At charging stations, with Level III Quick Charge 50kW, you can power up from 10% to 80% in about 64 minutes. With Level III 100kW, you can charge from 10% to 80% in about 47 minutes. Available for your favorite device, Bluelink® app features Charge Indicators and Charge Scheduling, so you can charge during off-peak hours when electric rates are lower.
Your journey has power, and it's on us! Electrify America has built an amazing ultra-fast network of DC fast-charging stations across the country so you can feel confident in your journey. 2023 KONA Electric owners get 250kWh of charging—about 1000 miles of power—a gift from Hyundai.⁠